Exciting events are taking place in the arts and cultural realm in Pickens County right now!  Come and be and be a part of history being made, not only in our county, but in Georgia!
Pickens Arts and Cultural Alliance will hold its Annual Meeting at the Pickens County Administration Building on April 10, 2018.  The meeting will be held in the Pickens Room.  New Board of Directors will be named as well as Advisory Board members.
A progress report and on achievements in the community and plans for the future will be revealed.
The meeting is open to the public so don't miss out!  We will start at 6:00 pm with chili, cornbread and good old southern sweet tea!
Creative works from Pickens County art students in grades K through 12 will be on display at the Southern Appalachian Folk School, 255 Chambers St, Jasper GA 30143. This multi-media exhibit, sponsored by Pickens Arts & Cultural Alliance (PACA) and Southern Appalachian Folk School, highlights Youth Art Month, a national celebration sponsored by the Council for Art Education. The annual celebration, which typically takes place in March, emphasizes the value of art education for all children and encourages support for quality art programs in Georgia schools.
Art Pickens Artist Gathering and Market is a monthly gathering of artists from Pickens County and the surrounding areas.  The even is the second Saturday of each month from May through November.  Follow them on Facebook at Art Pickens.  This event is free to the public.  Come and see real artists and artisans at work and participate!
This was a really fun rock painting activity at Art Pickens!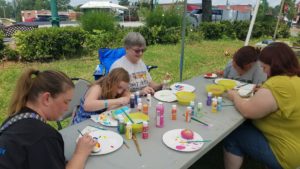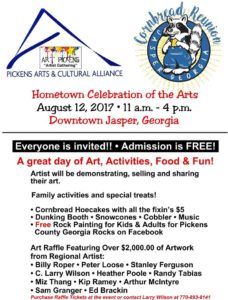 First Annual Cornbread Reunion –-August 12th, 2017 11am-4pm
Art Pickens – Artist Gathering
For the past year and a half, PACA (Pickens Arts and Cultural Alliance) has been hosting a monthly gathering of local artists. Art Pickens – Artists Gathering invites artists assemble at a public venue in Jasper, demonstrate their art, sell their art and share their passion with each-other and the always welcome public.
At the August 12th Artist Gathering, we are pulling out all the stops and hosting a hometown celebration of the arts at the First Annual Cornbread Reunion. All Artist, whether you have participated in the Gathering or not and everyone in North Georgia are invited to come and meet artists, see art in action and enjoy our family friendly atmosphere. We will have activities and be selling special treats – including fresh cooked Cornbread Griddlecakes, complete with fixin's like sorghum, honey, and butter! Come out, celebrate the Arts with us and help us re-establish a vibrant arts spirit in Pickens County!
If you are a Jasper business, we would love some partners in re-kindling the arts in Pickens County. Sponsor our church fans or t-shirts. For $100.00, your logo will be on the back of our First Annual Cornbread Reunion t-shirts and on our Hand-Crafted Clothesline at the event!
Heather Poole
Pickens Arts and Cultural Alliance and Art Pickens Cornbread Reunion ~ Hometown Celebration of the Arts on August 12, 2017 from 11 AM – 4 PM on the green space in downtown Jasper.